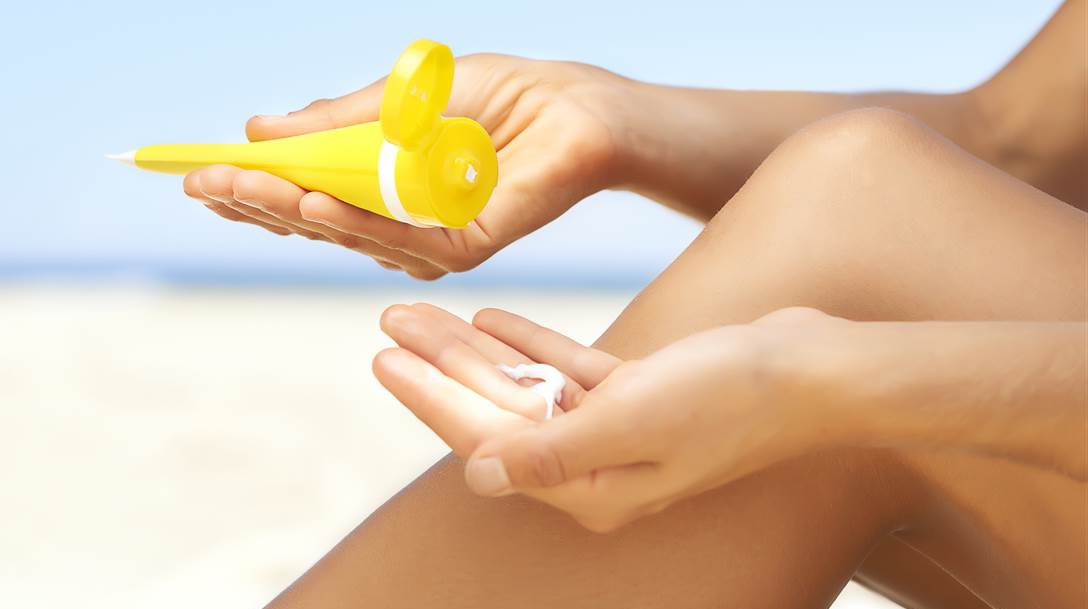 At the very beginning, we want to point out that the use of sunscreen is important. However, you must learn to read their compositions.
Are sunscreen creams safe? Can their ingredients be absorbed through the skin? How is it? Scientists decided to give a clear answer to this question, stating that sunscreen must be used. They protect not only against sunburn, but also against the development of melanoma.
Now pay attention! It happens that a given chemical compound may be harmless, but it changes under the influence of the sun. The high temperature causes chemical reactions and the compound is already dangerous!
Hazardous substances in sunscreen creams
Example? Oxybenzone (Benzophenone-3 or Benzophenone-4), a toxic substance, a derivative of highly poisonous benzaphenone. If the product contains more than 0.5%, a warning must appear on the packaging. What does Oxybenzone do? First of all, it disrupts the protective layer of the skin and may be carcinogenic - it penetrates the skin and disrupts the hormonal balance. It is strictly forbidden for pregnant and lactating women, as well as for children.
But it doesn't stop there. According to the FDA guidelines, each ingredient that is absorbed at levels exceeding 0.5 nanograms per milliliter of blood should be toxicologically tested. In a study published in JAMA, scientists focused on four popular components of UV filters for the skin: avobenzone, oxybenzone, octocrylene and ecamsule.
During the trial, 24 healthy people put on one of the four tested filters. Two of the cosmetics were sprayed, one oil and one cream. Participants covered 75 percent of the body with the selected cosmetic four times a day for 4 days. During this time, 30 blood samples were taken from them.
All four test substances exceeded the absorbability threshold required for starting the tests. Their levels in all subjects remained above the limit throughout the week. Moreover, between the first and the fourth day, there was an increase in levels, which indicates a build-up of the chemical in the body with continued use of the cosmetic.
From the cream changes on the skin?
Yes, it is possible, and even - often. Sun cosmetics, which contain a large amount of greasing substances, cause spring acne when exposed to the sun.
Spring acne is also sometimes called ... majorca acne (acne mallorca). The name comes from the Spanish island of Majorca, where a lot of cases of this disease have been observed. It is manifested by the appearance of small, severely itchy spots, mainly on the neck, shoulders and décolleté.
The negative effects of sunscreen creams?
There are more problems - oily skin blocks the body's ability to sweat, and therefore blocks the cooling mechanism. Excessive use of cosmetics with filters, despite exposure to the sun, may prevent the parts of the body protected by the filter from being exposed to sunlight, which stimulates the production of vitamin D.
However, scientists have no doubts that you need to use cosmetics with a filter! Professor Carroll argues in The New York Times that it is better not to give up on them, because they are a key element in protection against skin cancer. According to him, this year the FDA is to issue recommendations on the use of such cosmetics. They will suggest that filters containing paraminobenzoic acid (may cause allergies) and triethanolamine salicylate (is associated with bleeding) should not be labeled "generally recognized as safe and effective".
In recent years, interesting and completely new bans have appeared ... of using sunscreen creams! In Hawaii, among others - because they harm coral reefs! Harmful to aquatic nature and animals turned out to be: oxybenzone, octinoxate and a group of substances called parabens. These substances accumulate in the organisms of people at rest and in animals and plants living in the water.
When it comes to personal health, Professor Carroll advises, a reasonable basic plan is to just cover yourself. I wear a UV protection swim t-shirt and a sun hat. My kids say I don't look as cool as other dads, but I use far fewer filters than they do. It makes my life easier and can be helpful for the environment.
Penetrating filters, the ones we avoid:
Ethylhexyl Methoxycinnamate
Butyl Methoxydibenzoylmethane (Avenobenzone)
Octocrylene - until recently recognized as safe!
Benzophenone-3
Benzophenone-4
4- Methylbenzylidene Camphor
Homosalate
Titanium Dioxide (nano)
Zinc Oxide (nano)
Types of filters
The two main types are mineral filters and chemical filters. You can find more about them here: UV filter: which one to choose? Types of UV filters
Fun facts about sunscreen creams
Do you know how to apply sunscreen? Contrary to appearances, it also matters. Such a cream should be applied a moment before going out into the sun - optimally 30 minutes. The application must be repeated during the day - we sweat, wipe the protective layer off the skin, swim in a pool or the sea. You must reapply the cream after each bath, even if it is theoretically waterproof.
Reading the labels is also important because the cream is uneven. Also affordable. Many companies make prices dependent on their brand, and why overpay, since filters with the same composition can be cheaper?