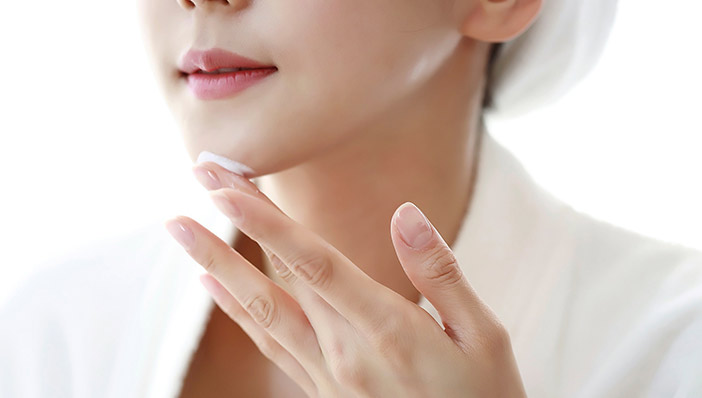 Cosmetic treatments for sensitive skin must be specially selected and carried out with the use of appropriate cosmetics. Many offices offer treatments for sensitive skin. The effects are visible after the first one, but specialists recommend a series of treatments - usually from 3 to 6. What treatments can be performed by a beautician with sensitive skin?
Cosmetic treatments tailored to the needs of sensitive skin should be carried out using the best cosmetics and with special care. In beauty salons you can find a wide range of treatments adapted to the requirements of a delicate skin. What are worth paying attention to?
Treatments for sensitive skin: colors of beauty - green mask and essence
After cleansing the skin and peeling, the beautician performs a 15-minute massage using an intensely moisturizing gel with a hyaluronic acid derivative and green tea. Then she applies the appropriate serum, and for 20 minutes, a mask and green essence. After taking them off, it's time to take care of the eye area. The beautician applies a silk mask to the eye area, and on the remaining parts of the face a cream suitable for the skin's needs. The treatment lasts 120 minutes and costs about $200.
Treatments for sensitive skin: Calming Sensitive Couperose Treatment - Babor
A treatment for sensitive skin prone to broken capillaries. After thorough face cleansing and a gentle peeling, it's time for a serum whose task is to shrink the blood vessels and reduce irritation. Then the beautician applies a nourishing and soothing collagen mask to the face. She spreads preparations around the eyes to moisturize and smooth the skin and eliminate dark circles. The treatment takes about 90 minutes and costs $220-250.
Treatment for sensitive skin with a cooling blue algae mask - Bielenda
The treatment is recommended for people with sensitive skin, with dilated capillaries, with erythema, and people at risk of rosacea. After cleansing the face and massaging the serum in, the beautician applies a mask containing routine and vitamin C, brown algae extract, a cooling complex and plant extracts. After 20 minutes, she removes it completely.The treatment takes about 60 minutes and costs about $60-80.
Delice de peau - Decleor sensitive skin treatment
The treatment is suitable for all dry and dry skin suffering from tightness and discomfort. First, a thorough face cleansing and a gentle peeling. then, after massaging the Aromessence lotion into the skin, the beautician applies a warm mask and massages it into the face and neck. After 15 minutes, she removes its excess and applies a protective cream. The treatment takes about 60 minutes and costs about $220.
Desensitizing treatment for sensitive skin Oligo'zen Serenity - Thalion
Indications for the treatment: sensitive, vascular skin, prone to allergies and irritations, delicate, damaged, stressed. It consists of 8 stages: make-up removal, cleansing, soothing, modeling, toning, reconstruction, remineralization and protection. Calming complex preparations based on chamomile and licorice and soothing sea algae extracts strengthen the skin and soothe irritations. The treatment lasts about 50 minutes and costs $130.