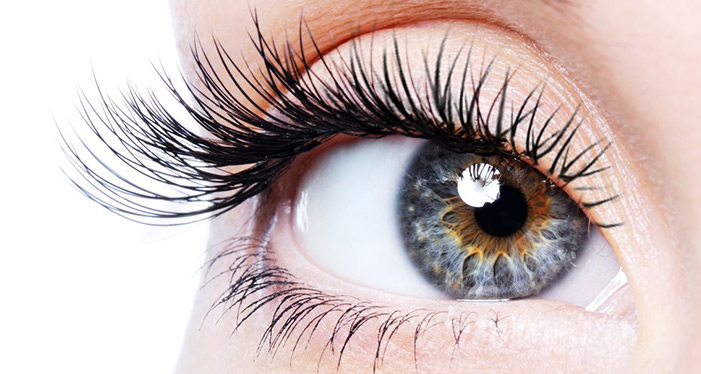 False eyelashes are a simple way to emphasize eye makeup, but many women hesitate to apply them on their own. How to put on false eyelashes? How to take them off? Are they safe and the glue does not cause allergies? You will find the answers to these questions in our article!
Artificial eyelashes can be added in a beauty salon, but the procedure is quite expensive and time-consuming, and also requires regular repetition. A simpler solution for women who dream of a "curtain" in front of their eyes is the independent application of the lash belt. The main difference between professional and home eyelash extensions is that the beautician sticks to each natural eyelash at least one artificial eyelash, but we can place a strip with a whole set of artificial hairs just above the upper eyelash line.
Are false eyelashes safe?
People with sensitive eyes and prone to allergies should be careful, because both the glue and the eyelashes themselves can cause allergies. In addition, if the lashes are weak and prone to falling out, sticking even the lightest artificial lashes will put extra strain on them and, as a result, may result in the loss of more hairs.
How to take off false eyelashes?
The glue used to glue the false eyelashes should become slightly rubbery and elastic, so that it easily detaches from the skin. Use your fingernail or tweezers to pry the outer edge of the strip on which the eyelashes are attached and gently tear it towards the inside of the eye. The remains of the glue can be easily removed with a cosmetic milk, two-phase lotion or olive. Remember, however, not to rub the remaining glue. A cotton swab soaked in a suitable substance should be placed on the eyelid and pressed lightly until the glue dissolves. If we have used too much glue and the eyelashes do not want to peel off, it is worth applying a little petroleum jelly. Under no circumstances should they be pulled by force, as we can also tear out our own lashes.
Clumps of false eyelashes
If you want a more natural effect, it is worth using a slightly more demanding, but equally effective method of sticking artificial tufts on the lash line, grabbing them with tweezers and soaking the tip in the glue, and then placing it between your natural eyelashes.
Are false eyelashes reusable?
Of course! All you need to do is gently remove any adhesive residue after removing them. They have a rubbery form, so it will be most convenient to tear them off with tweezers. It is important to remember to keep the original box - it is the only place where the eyelashes should not lose their shape.