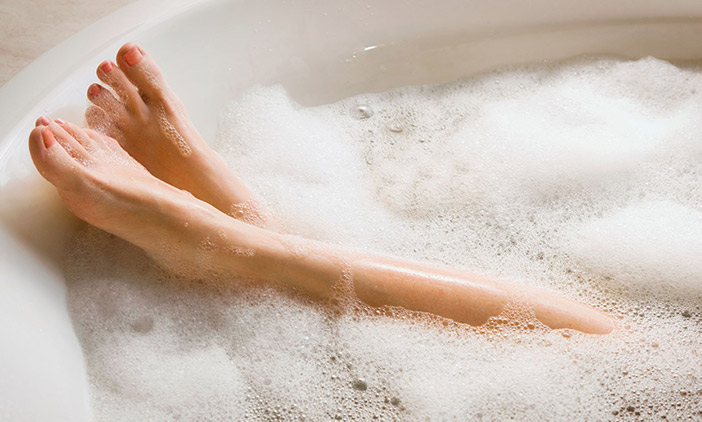 Foot care is very important despite the fact that we hide them in our shoes most of the year. Properly cared for feet do not cause problems and can be our pride. It is worth spending a moment with them, especially since foot care is not difficult or time-consuming.
Foot care should be performed regularly throughout the year. Feet are a very sensitive part of our body, and fortunately, taking care of them is not difficult or time-consuming, and does not require expensive cosmetics. It is enough to learn a few most important rules to be able to show off beautiful feet. A home pedicure can be done in minutes. Regular exfoliation and moisturizing the feet will make us do without invasive podiatry treatments. How to take care of your feet? What is the most appropriate care?
Foot care: proper shoes and relaxation
The feet, as well as the armpits, have the greatest number of sweat glands. So let's change tights or socks every day and wash our feet every day! This is important because, if we take care of their hygiene, they will not chafe or sweat, and fungus-friendly flora will not accumulate on their surface. Choose only comfortable shoes. Preferably with a soft lining, flat or low heels, with wide soles. It is not worth slaving fashion. Walking in uncomfortable high-heeled shoes with narrow toes, after a few years, may lead to significant deformation of the feet and halluxes. Corns, calluses that turn into hard growths and thickenings over time will make our feet ashamed not only on the street, but we will be reluctant to show them even to household members.
Shoes should be airy. If excessive foot sweating is their inborn feature (it results from our physiology), sprinkle them with talcum powder, use special deodorants and buy footwear made of natural materials. And most of all, let's change shoes often.
The feet wear us all day long. Like us, they also need relaxation. However, we like to rest in a horizontal position, and they would like to be slightly raised. Therefore, after returning from work, let's lie on the floor for 15-20 minutes with your feet resting on the sofa. We should also remember that the fatter we are, the more we have to bear our feet. Over time, this can lead to their deformation. So before we eat our third donut, let's think about them for a moment.
Cracked heels can also be annoying. Sometimes the cracks are so deep that they form wounds. To prevent this from happening, you should pat your feet with cream every day. If the cracks have already appeared, put a very thick layer of cream on your feet overnight and put your socks on to sleep. Every two or three days, after bathing, you also need to gently rub your heels with a grater to remove thickened epidermis and reduce the stratum corneum. Once a month, it is worth making an appointment for a professional pedicure in a beauty salon and treat yourself to softening and regenerating paraffin wraps.
Foot care - cosmetics
Foot skin care is also important. Every day, while bathing, use a grater to wipe the thickened skin on your toes, soles and heels. After getting out of the water and drying, grease them with a thick, nourishing, deeply moisturizing or oiling cream. If the skin on the feet is dry, it is best to pat it with a light moisturizing cream every morning.
Every week during the weekend it is worth setting aside 40 minutes for foot care.
Foot care: home pedicure lesson
Soak your feet for 10-15 minutes. Put a handful of softening salt in a bowl with warm water, add refreshing lozenges or pour a special foot bath. You can also add some liquid soap or shampoo. The idea is to soften the epidermis. If you use cosmetics with chamomile, calendula or lavender extracts, soaking will be relaxing for tired and swollen feet after a whole day.
Peel your feet. This will remove dead cells from the surface of the epidermis and make it smooth. Coarse-grain peeling will be the most effective. If the skin on the feet is extremely coarse, rub it with a grater and pumice stone. However, do not use knives to cut the epidermis as you could cut yourself and cause an infection. Then wash your feet and dry them thoroughly. When home treatments fail to remove the thickened epidermis, get help from a pedicurist in a beauty salon. If you don't have to, don't cut the cuticles. Brush delicate and thin with gel or softening liquid and remove with a special wooden stick. You will avoid cuts and slow down the process of their regrowth. If the skins are very hard and large, pry them up with a stick first and then remove them with pliers.
Cut nails with curved pliers or file down with a coarse file. Do not use scissors as the nails can break and split. Shorten them straight, no rounding, and don't cut too much from the side. The border should be the side line of the nail ingrowth into the cuticle.
Smooth the cut edges of the nail with a file, without rounding them. Paper files are the safest. Choose one with a polisher that will also smooth the nail plate, making it easier to apply varnish. Rub cream or lotion into your feet. Depending on the needs, it can be a moisturizing, regenerating cream for cracked heels, a softening cream or a mask. Wait 20 minutes, then wipe the nails with a tissue to remove the cream from their surface.
Paint your nails with varnish. To prevent your fingers from rubbing against each other, insert cotton wool rolls or pieces of sponge (so-called foot separators or toe spreaders) between them. Start by applying the base varnish. Ideally, it should be a conditioner and strengthen the nail plate. Then apply a colored varnish. To consolidate and strengthen the effect, apply the so-called hardener. Take a 10-minute break between each application. This season, intense and strong colors are fashionable, and the nail polish on the toes is to be different in color from that on the hands.