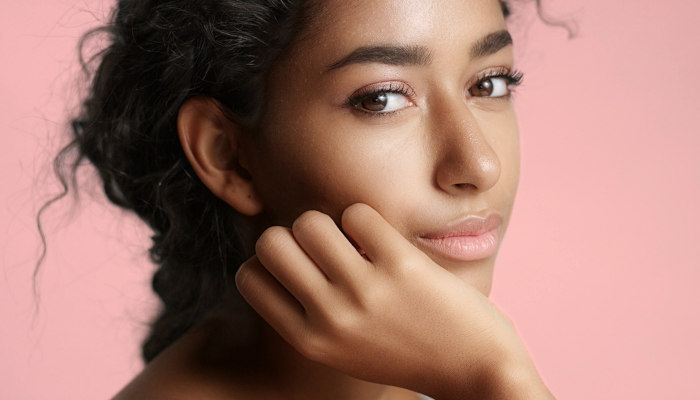 Do you have days when you don't want to apply makeup, but feel insecure without foundation and painted lines? Find out about 10 ways to quickly improve the appearance of your complexion and make your face more expressive without the use of heavy, colored cosmetics.
If you want to look good without makeup, you need to put special emphasis on care. There are substances in nature that can quickly lighten discoloration and smooth the skin, making your complexion look better without the need for a foundation. It is, for example, vitamin C, rice, cucumber, aloe and chamomile extracts. There are also creams available on the market that act as an invisible foundation - they contain nourishing and toning substances that are able to instantly improve the skin tone. Learn more tricks on how to improve your look without makeup.
How to look pretty without makeup? Exfoliate your skin regularly
Exfoliation is the basic treatment that determines the condition of your skin. When performed systematically, it reduces discoloration, smoothes and reduces the tendency to imperfections. You can exfoliate your skin every day using gentle micro-exfoliating cosmetics, e.g. based on rice powder - an ingredient used by Asian women for centuries to lighten the skin. Dermalogica enzymatic rice scrub is popular with celebrities and beauty bloggers. Another option is to use the peeling less often - 1-2 times a week, depending on the type and needs of the skin. If you are looking for something that will give you an instant beautifying effect, try Miya's Natural Enzyme Scrub. It exfoliates very gently thanks to enzymes from papain, and at the same time moisturizes thanks to the oils of sweet almonds, raspberry seeds and apricots contained in it.
How to look pretty without makeup? Apply a soothing tonic mist
To minimize any irritation and redness, immediately spray the skin with a soothing mist containing soothing plant extracts: aloe vera, damask rose, coconut, chamomile, cucumber after cleansing. The skin will be refreshed, bright, soft and ready to accept the cream.
How to look pretty without makeup? Put on a brightening mask
The skin tone will be more even if you additionally use a brightening sheet mask. This is a well-known patent of Asian women for alabaster, moisturized skin without makeup. If you have problems with redness or red spots after spots, try e.g. Korean Benton Mask.
You can also use a traditional mask in a jar, for example Glamglow with a complex of 4 cleansing clays: white, bentonite, kaolin and green. The mask formula was created especially for the needs of Hollywood stars, specifically Keanu Reeves, who needed something that would improve the appearance of his skin in 10 minutes and prepare him for the performance in front of the camera. Glamglow regulates shine, tightens enlarged pores and improves skin tone.
How to look pretty without makeup? Use vitamin C.
Vitamin C is one of the best-studied cosmetic ingredients with proven anti-aging, brightening and discoloration reducing properties. In order for the complexion to look beautiful without makeup, you should use a cosmetic with vitamin C every day - preferably in the form of a light serum under the day cream. Look for products with a stable form of vitamin C that does not oxidize quickly and does not cause irritation, such as Sesderma C-Vit, The Ordinary Ascorbyl Tetraisopalmitate Solution 20% in Vitamin F or Yonelle Biofusion 5% Vitamin C.
How to look pretty without makeup? Make a cooling massage
To eliminate puffiness and tone the face, perform a drainage massage with a jade roller or pink quartz immediately after applying the serum. This will improve circulation in the skin and help it regain a healthy color. In the long term, such a massage will be a good element of anti-wrinkle prevention. It is worth putting the roller in the refrigerator before the massage - the cold will have an even better tensing and anti-swelling effect.
How to look pretty without makeup? Apply eye cream
The eye cream may not replace the concealer, but it will certainly brighten the eyes and reduce dark circles under the eyes. For a fresh look, use the favorite cosmetic of make-up artists working behind the scenes of fashion shows: Embryolisse stick cream, Eclat du Regard - Luminous eyes. It creates a firming and smoothing "film" that reduces the signs of fatigue. The accompanying cool massage helps to reduce shadows and the so-called bags under the eyes.
How to look pretty without makeup? Apply the coloring cream
If you want a natural look, replace the foundation with a face coloring cream. It behaves and looks like an ordinary skin care cream, but after application it visibly beautifies the complexion and optically reduces uneven color. It also contains ingredients that work well on the skin, such as squalane, magnesium, zinc and nourishing oils. You can choose from several shades of cream, each dedicated to a different problem: green reduces redness, yellow discoloration, and purple gives a dull, tired complexion glow.
How to look pretty without makeup? Curl your lashes with an eyelash curler
When the complexion is even, you can focus on adding clarity to your eyes. Use the old and proven method, i.e. curling the eyelashes with an eyelash curler. You may not think that this procedure will help you, but believe it - the difference between before and after is huge. The eyelash curl causes the eyelashes to curl upwards, making it seem optically more and thicker. For optimal effect, hold the clamped eyelash curler for a few seconds and repeat the same procedure twice.
How to look pretty without makeup? "Paint yourself" with coconut oil
How to darken and thicken lashes without mascara? The task seems impossible, but there is one way. Apply the trick that models like - "make-up" with coconut oil. All you have to do is take an eyebrow brush and scoop some congealed coconut oil on it (necessarily unrefined). Then you brush your eyebrows upwards. The hair will be optically darker and thicker, and will shine nicely. You can do the same with your eyelashes. Coconut oil is also great as a natural highlighter - take a little on your finger and apply it to the tops of the cheekbones, eyelids and the area under the lower eyebrow.
How to look pretty without makeup? Apply the balm on your lips
The last step is to moisturize your lips. To enliven them a little, use a caring balm that gives the lips a light color and shine, such as Baume de Rose By Terry. The rose-scented cosmetic closed in a small jar is a favorite of French women. You can also treat it as a cream blush and apply a little on the cheeks and even on the eyelids.