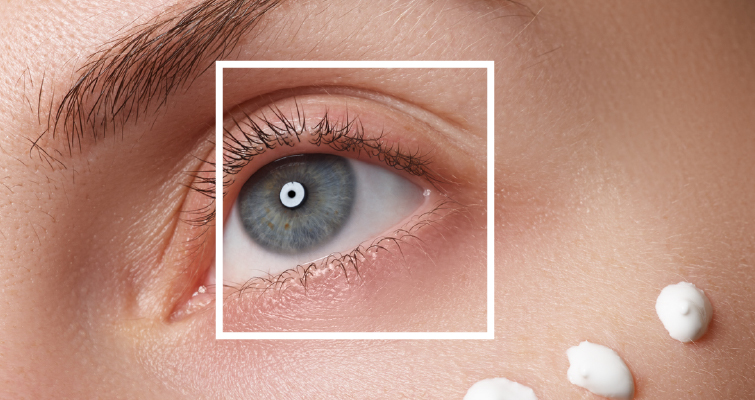 The skin around the eyes is very thin, it is easy to dry and irritate. Poor care of the skin around the eyes favors the rapid appearance of wrinkles. It is also characterized by poor blood circulation and a tendency to lymphatic stasis, as a result, dark circles and puffiness often form under the eyes, which add years.
Eyes - they can say a lot, unfortunately - not only what you want. The skin around the eyes will reveal sleepless nights, hours spent in front of the computer, and especially all mistakes in care. Therefore, it is not enough for you to wet the skin around the eyes with a face cream - it needs special cosmetics and gentle treatment.
Make-up removal, i.e. removing cosmetic residues
This is the most important daily care treatment. The remains of colored cosmetics may irritate not only the conjunctiva but also the skin around the eyes during sleep. Cleansing must therefore be thorough and gentle at the same time. Use a preparation specially designed for this purpose - preferably a make-up remover or micellar water. Apply a cotton pad soaked with the preparation to the eyelid, wait a moment for the mascara and shadows to dissolve, then move the pad from the outer to the inner corner of the eye. Repeat this until the next petal is completely clean.
Eye cream - what cream best protects your eyes
After you finish removing make-up, it's time for a good cream - taking into account the specific needs of these parts of the skin. What does it mean? Eye creams are distinguished by a very light consistency, thanks to which they are easy to spread and absorb. Usually they are devoid of fragrances that could sensitize. On the other hand, they contain vitamins and plant extracts that provide long-lasting skin hydration, stimulate collagen synthesis, smooth fine wrinkles, soothe skin irritations, reduce puffiness and brighten dark circles under the eyes. When choosing a cream, you should be guided primarily by the needs of your skin, and less by the age group for which the cosmetic is intended. If you are prone to swelling and dark circles, look for ingredients that improve microcirculation, drain and lighten (e.g. vitamins C and K, caffeine, cornflower extracts, arnica). When you have a problem with sagging skin, choose creams that improve its tension and firmness (including wheat proteins, rice extract, pseudobotulin).
Serum for sagging skin
Dry or sagging skin should be supported with stronger preparations, e.g. a nourishing serum. They can be used in the morning and evening or just at night. After spreading the cosmetic around the eyes, a little bit of cream should be gently patted in, because the serum absorbs instantly and leaves the skin feeling tight. Eye masks in the form of collagen flakes soaked in e.g. hyaluronic acid, algae or ginkgo extract are perfect. They have a strong moisturizing and tightening effect on the skin, and also - depending on the active ingredients - they can lighten shadows and eliminate puffiness.
Ways to emphasize your gaze
It is worth emphasizing the beauty of the eyes with appropriate makeup. If you want to use a colored eyeshadow or crayon, you can first apply a little smoothing makeup primer to the eyelids. Thanks to this, the shadows will spread perfectly evenly, they will not flake off or clump in skin folds. Then, carefully mascara your lashes - it will make your eyes more expressive. If you dream of long and thick eyelashes, invest in a good conditioner. You can choose the one that should be used at night, after removing makeup in the evening - if you use it regularly, you will notice a difference after a month. There are also conditioners intended for use under mascara - they extend lashes and strengthen them.